Behind every Onzie design, you will discover a deep respect for what the human body can do.  Whether you are working out or just working it, Onzie's creative cuts, patterns and prints want to come along for the ride, infusing playfulness, self-expression and confidence into every move you make.
Onzie was born in Venice Beach, CA, the epicenter of creativity and active living. Having their headquarters here makes it a badass place to develop their collections and an easy way for their team to practice the values they preach.

They wear their gear in and out of the office, constantly testing the quality and performance of every garment they produce. If something isn't perfect, they do everything in their power to fix it.
By the time you get your Onzie goods, they have already met the highest standards. In additional, they keep their production local, with 99% of their sewing, cutting and dyeing happening in LA.
Onzie is an independent, female owned and operated business.  Kimberly Swarth is the Onzie's fearless founder and CEO.  She is a devoted yogi with a Masters in Movement Therapy.  She is the driving creative force behind the brand and collaborative company culture.
She and the rest of the Onzie team, together they strive to embody the power of the female spirit, every day.  They support and challenge one another, putting their passion into their product and infusing creativity and movement into all they do.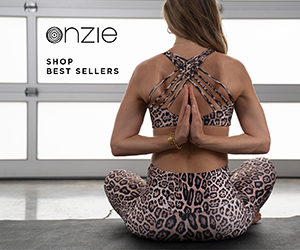 They have been known to hold dance offs and somatic stretch sessions before tackling strategy meetings and brainstorms. From their inception, they have made it a priority to support other small business owners and boutique fitness studios, both locally and across the globe.
In fact, you are likely to catch one of them in any number of these niche yoga, pilates, spinning or dance classes. It is one of many reasons they have cultivated a loyal following within these communities.
The brand prides itself on offering accessible, affordably priced, high quality yoga wear that is comfortable in saltwater, chlorine and heavy sweat environments. Their affordably priced pieces are designed with their Free Flow Fabric Technology, making them functional, breathable and fashionable.
They hope their customers love wearing their Onzie apparel as much as they love creating it.