started as a yoga mat and accessory brand.
Peter Sterios, an architect turned yogi in 1997.  He has discovered a simple, elegantly designed black mat whose combination of firm grip and complete support revolutionized his yoga practice. He sought to share this amazing product with others in honor of the yoga masters who inspired him.


Peter chose the name Manduka in homage to his teacher and mentor, Shandor Remete, whose core practice and teaching always included the ancient Hatha Yoga pose, Mandukasana or frog.
The quality and performance of Manduka yoga mats and accessories are still unmatched in the marketplace.  They are still crafted using simple, enduring, natural, and possible, renewable materials and fine attention to detail. Manduka is a company built by and for yoga teachers and their students.
Since the beginnings of the Black Mat, Manduka has been inspired and guided by a responsibility to reduce global consumption by making better products that last longer.
Their design approach is rooted in principles of conservancy and transparency, creating mats, towels, props and apparel while also making every possible effort to minimize environmental waste.
They are constantly searching for innovative partners and updated technologies to further respect the land upon which they place their mats and their intentions.
As a company, they understand the impossibility of leaving no environmental footprint. But what they can commit to is 100% transparency, being clear about the decisions they make and, most importantly, where they have room to improve.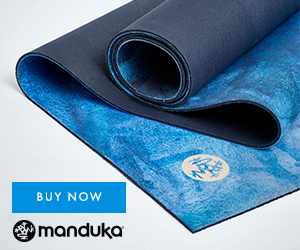 They consistently strive to be better, stronger, kinder and more conscious of their actions and their global impact.  Sustainability isn't simply a story.  It is part of their DNA and part of their evolving practice.
Soulfully Engineered. No other yoga mat is built with the precision and passion of Manduka. Designed by yogis and loved by teachers worldwide, carefully-selected materials are paired with thoughtful design for the tiniest environmental footprint possible.  High performance products with an even higher purpose – to keep the focus on your practice.
Eco Friendly Yoga Products