Crystal Healing Certification
Are you a crystal lover? Are you interested to learn more about the power of crystals or maybe into crystal healing certification courses online?
People have been attracted to crystals since the dawn of time for healing rituals and spiritual advancement. Crystal healing is a pseudo scientific alternative medicine technique that uses semiprecious stones and crystals such as quartz, amethyst or opals.
Have you wished that you knew more about crystal healing, so you could begin your own practice? Then this is the course for you!
Crystal Healing Certification Courses Online
There is an online course, accessible anywhere, anytime, will teach you everything you need to know about Crystal Healing.
From choosing your crystals to charging them and crystal meditation, there are a lot of ways that you can use crystals.
Their expert course teaches you the best practices of aural healing, meditation, and Feng Shui, setting you up for successful crystal healing!
The course is written by holistic therapist and writer Angie Droulias who specializes in Reiki, Crystal Healing and Shamanic Healing.
Whether you want to be a healer or find out how crystals can help you in your everyday life, this Crystal Healing course is packed with the information you need.
The Course Trainer
Angie Droulias is a certified writer and Holistic Therapist. She specialises in Reiki, Crystal Healing and Shamanic Healing.
She additionally has a long background in Teaching (ESL) and preparing curriculum for youngsters and adults, both online and offline.
Angie resides in the English South-West countryside with her husband where she spends her time writing, collecting crystals, exploring nature and offering healing services.
What You Will Learn
In this course, you will learn:
How to choose the right crystals – and what the wrong ones look like
Charging, programming, and fixing crystals
Healing through many types of practices
Crystals for the mind, emotions and body
Harnessing good energy – and blocking bad
How to help yourself and your community through crystal healing
Starting your own Crystal Healing Practice
Who Is The Course For
Anyone with a curiosity about crystals, alternative medicine or holistic practices will benefit from this course!
If you are just starting out with your first crystal or wanting to brush up your healing skills, this course is jam-packed with interesting, relevant information that will help you grow in your practice!
People using other natural therapies or yogis can see how crystals can help in their chosen field.
People teaching meditation or mindfulness will discover how crystals can deepen the meditation practice.
Great Career Paths
You can use crystal healing to help yourself grow and rise as a person, bringing success in that manner. Or perhaps this course will lead you on a path of healing others, starting your own business.
Either way, crystal healing can help in whatever career you have, as it is a practice of healing and growth.
After completing this course, you could explore exciting career paths such as:
Crystal healing practitioner
Crystal therapist
Alternative medicine professional
Offer healing solutions for stress and depression relief
Meditation and mindfulness counsellor
Buying and selling crystals
International Open Academy Courses
What are the requirements? International Open Academy courses are designed for anyone with an interest in learning. No formal qualifications are required to study with them.
Their courses are suitable if you want to learn new skills, start a new career, or if you are already working in a particular industry and wish to upgrade your talents and enhance your resume.
Certification
To receive certification, you must:
Complete every page of the course
Score at least 55% on the exam at the end of the course
After successfully completing the course, you will immediately receive your PDF course certificate so you can instantly add it to your CV and display your achievement.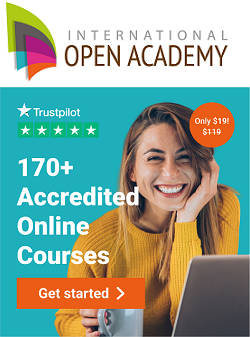 You can also request a hard copy certificate to be sent to your postal address for a small printing and posting fee.
All their courses are accredited by the International Council for Online Educational Standards (accreditation number ICOES/00763/13/36).
Most of their courses will earn you credits through Continuing Professional Development (CPD) / Continuing Education (CE). Check for the CPD logo on the course page.
CPD points are accepted and recognized by employers from both the public and private sectors, and academic institutions across the UK and internationally.
International Open Academy is also an officially approved TQUK (Training Qualifications UK) center, with the TQUK Center Number: C001157.
TQUK is a national awarding body recognized by the UK Government and regulated by Ofqual (The Office of Qualifications and Examinations Regulation).
Course Breakdown
Module 1: Introduction
1.1 About crystals – what are they?
1.2 Where crystals come from
1.3 Use of crystals through the ages
1.4 Types of Crystals
1.5 Spotting Fake Crystals
Module 2: Getting Started With Crystals And Crystal Energy
2.1 How does crystal energy healing work?
2.2 Connecting with Crystal Energy
2.3 Crystal Healing Preparation
2.4 Chakra Healing with Crystals
2.5 Aura Healing with Crystals
Module 3: Other Uses Of Crystals
3.1 Crystals for the Mind, Emotions and the Body
3.2 Crystals for Meditation, Spirit and Protection
3.3 Crystal Grids
3.4 Crystals and feng shui
3.5 Crystal Water
Module 4: Creating Your Crystal Kit
4.1 Choosing your Personal Crystal/Gemstone
4.2 Your Crystal Birthstone
4.3 Top 10 Crystals to Own
4.4 Setting up your crystal kit
Module 5: Caring For Your Crystals
5.1 How to look after your crystals so they look after you
5.2 Cleansing crystals and Crystal Toxicity
5.3 My Crystal Broke – Now What?
5.4 Crystal sensitivity and how to accommodate for it
5.5 Care for crystals used in your healing sessions
Module 6: The Crystal Healing Session
6.1 Self Healing Methods
6.2 Working on other people
6.3 Working with different crystal types together – what works and what won't
6.4 The After-Effects of Crystal Healing
6.5 Interested in Starting a Crystal Healing Practice?
Authentic Student Testimonials
"I found the Crystal Healing course to be very informative, giving a good grounding of the history of crystals right through to starting your own business. Some very good tips and general overview of a crystal and its uses/properties."
Krystyna Nicholls – United Kingdom
"A very interesting and in-depth course on crystal healing. I already had knowledge of this subject, but the amount of information was incredible. A course I've really enjoyed completing."
Deborah Wallace – United Kingdom
"Friendly and easy to use platform, practical exercises explained step-by-step, clear instructions and presentation. No long and useless introductions. Straight to the point. Brilliant, honestly. I couldn't have asked for more."
Maria Eleni Saraidari – Greece
"I entered this course for myself rather than taking it into a career. I wanted a better knowledge on self-healing with crystals as I've already delved into this path for self-growth. I highly recommend if you are planning on becoming a holistic therapy practitioner. This is the go-to to start and give you a bit of inner knowledge regarding this. It also gives information on how to start a business in the above. I will be using these services again in the future if anything spiritual pops up. Thanks again!"
Carmen Ashleigh – United Kingdom
"I never knew that I can learn so much from rocks and crystals. There are energies that can't be seen by our sights and require other senses to be felt. This course has taught me a new kind of concept of healing ourselves!"
Chestie Alejandrino – Australia
"The course has met my expectations. I learned a lot."
Danijela Avramovic – Serbia

Overview Information
Internationally Accredited by ICOES
Fully CPD/CE Certified
Instant Free PDF Certificate
Recommended by 95% of Students
24/7 Access
11589 Students Enrolled as at 15th Aug 2020
14 Days Money Back Guarantee
Conclusion
Since the COVID-19, the whole world has function in a different way. It's moving closer toward a digital world. We have to also start to change our mindset and be more creative in order to fit in the new world.
It's time to learn new skills and techniques because this will help to bring us more opportunities in life. Remaining and doing in our same old way will only bring us back to square one, not anywhere.
This International Open Academy is a good platform for you to start to learn some new skills and techniques. There are many varieties of interesting online courses you can choose from.
Since it's online, therefore you can access to the courses 24/7 regardless you are in whichever part of the world.
You may like to check it out about their courses and see you can find something you are interested in at HERE.
Do you have any thought or experience you would love to share? Please feel free to leave them in my comment box provide below and I am more than happy to hear from you!
Please help to click on the social share buttons on this article and share it with others so that more people know too. Give a Like to my article too! Thank you.
Namaste.