There are many free online yoga classes on the web today. You might be thinking "Why I have to pay since there are so many free online yoga classes out there?!"
But have you ever think why there are online yoga classes have to pay on the web since there are so many free online yoga classes? That mean there are people willing to pay for the online yoga classes instead of going for the FREE!
Paid vs Free Online Yoga Classes
So the next question is why these people are willing to pay since there is free one on the web? There is always a reason for everything. And doesn't mean you choose the free one mean you have made the smart move. Those who
really concern of their health, body and mind benefits and place these as their first priority when come to decision-making will then consider making the smart move.
So for those who put the money in their first priority when come to decision-making are actually not making the smart move. Because they are seeing the money more important than their health, body and mind benefits.
But they have forgotten without a healthy body and mind, they can't enjoy anything in life at all even they have tons of money.
Let's be real. Sometimes you need a little extra motivation or variety to keep you coming back to your yoga mat. No matter how you will try to make an effort to go for a class when you have paid for it. You will tend to find more excuse not going for class when it's free. You won't feel the pain when you don't get a pinch.
And for a paid online yoga classes provider, you will realize they have more variety of classes that suit for more different people and they will keep update and improve for more new classes regularly. They are more professional and have better system support too.
You may also like to learn more about the benefits of online classes in my another blog post HERE.
Best Online Yoga Class
Online yoga is an excellent tool to do when your busy lifestyle doesn't allow you to attend a regular live yoga class. It is also a good idea if you like to have more yoga sessions in a week.
But since there are so many outs there, how do you know which ones are worth it and the best? As follows are some of the best online yoga class from the research on the web I have found for your reference.

MyYogaWorks
Whether you have just five minutes for a quick yoga practice or 90 minutes for a full session, MyYogaWorks offers a comprehensive video library of professionally crafted videos by experienced instructors. It is available on your
computer, tablet, or mobile phone.
Set in the MyYogaWorks studio, many videos feature two students: one who is in the standard poses and the other who demonstrates variations. Therefore, you can enjoy these videos no matter your skill level.
You can sign up for a free 14-day trial to see if MyYogaWorks is right for you. They have 1000+ short video clip free classes for different level on their site which you can check it out too.
You can filter it by
Duration
Level
Teacher
What you want to focus on
What you want to feel
What you want to practice
They have 1,300+ premium YogaWorks classes, 40+ Journey Series collections to help you grow and 40+ professional YogaWorks teachers.

AloMoves
Are you a fan of any celebrities? AloMoves let you enjoy your yoga practice from your favorite celebrity instructors. You may choose bundles and classes in a variety of categories like yoga, functional fitness, strength, weight loss, and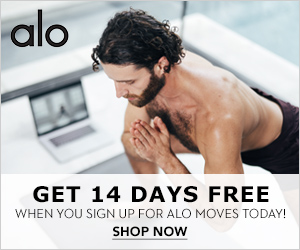 flexibility from your yoga favorites celebrity, including Meghan Currie, Kino MacGregor, and Dylan Werner, among many others.
Each bundle begins with a personal message from the instructor and an explanation of the intention of the series.
It is then moves onto a series of high quality videos that match your goals. You may like to check out previews of some of their top videos on their YouTube Channel too.
They are available on all devices and in HD include TV, MAC/PC, Tablet, Phone, iPhone, iPad, Apple TV, Android, Chromecast, App Store and Google Play.
You can sign up for a free 14-day trial to see if AloMoves is right for you. They have many short video clips of different classes by different trainer for different level on their website which you may like to explore HERE.
YogaDownload
 is an online yoga resource that can allow you to stream and download their yoga videos to keep forever, giving you the flexibility to bring your practice with you no matter where you are regardless there is any WiFi provided or not.
You can choose from more than 1,500 videos that you can download or stream right from your computer, including beginner through advanced, hatha, power, Pilates, vinyasa, yin, restorative, Prenatal & Postnatal, kid's yoga, Iyengar, meditation, Pranayama and much more. New classes are added every week.
You can also choose from audio classes with printable PDF guides or slideshows that outline a pose and then allow you to practice at your own pace.
There have many short video clip free classes with review which you may like to check it out on their website.
Besides yoga classes, they have many featured yoga music too. You can browse through thousands of albums and tracks that you can download for yoga, relaxation, and wellness. Also choose from music playlists from top instructors from around the world.
Hope the above reference can help you to decide which online yoga class to sign up. It has no harm going for the free trial at least to have an experience of it since it is free.
Do you have any thought or experience you would like to share? You may leave them in my comments box provided below. I am more than happy to hear from you! Make sure to click on the social share buttons on this article and share it with others so that people learn too. Give a Like to my article too!  Thank you.
Namaste